The Reigate Society Civic Awards 2015
Civic Award to: RDO Kitchens & Appliances, Bancroft Road, Reigate
Category: Shopfront improvements and new shop developments
RDO Kitchens & Appliances has been a significant retail outlet in Reigate for many decades and their new development has set a standard for others to follow. The decision to completely remodel the building to meet the challenge of internet retailers by providing a 'destination' store has been successfully met, as reflected in a significant increase in sales.
The well-known architectural cliché that form follows function is surely very appropriate for this shop wherein everything has been designed to the smallest detail and executed to a very high standard to first attract and then satisfy the demands of the customer.
The outcome architecturally is a very simple large two storey show window which is ideally positioned to draw the attention of the many passers-by, with a brightly lit display. The customer is welcomed inside the front door with a curved plan reception counter with the generous display areas beyond. Each display area is individually shaped to contain kitchen equipment, sometimes on shelves, and carefully spaced to allow best viewing of the individual equipment. A consistent design format banner strip at ceiling level in each display area indicates the items on display while throughout the ground floor area suspended timber beams and wood effect floor soften the harsh brightness of the 'white goods' on display.
A generous open staircase allows the customer to move to first floor and view further display areas as well as fitted kitchen display / demonstration spaces.
Externally the architecture of the building is very much in sympathy with the adjacent more modern design of Just Retirement's offices. Signage is suitably clear but not over-stated.
RDO has taken a bold step in re-planning their premises, and we believe should be taken as an example of the way further developments should be made to the more modern buildings not restricted by planning controls in the adjacent Reigate Town Centre Conservation Area.
The panel has no hesitation in giving this scheme a Civic Award.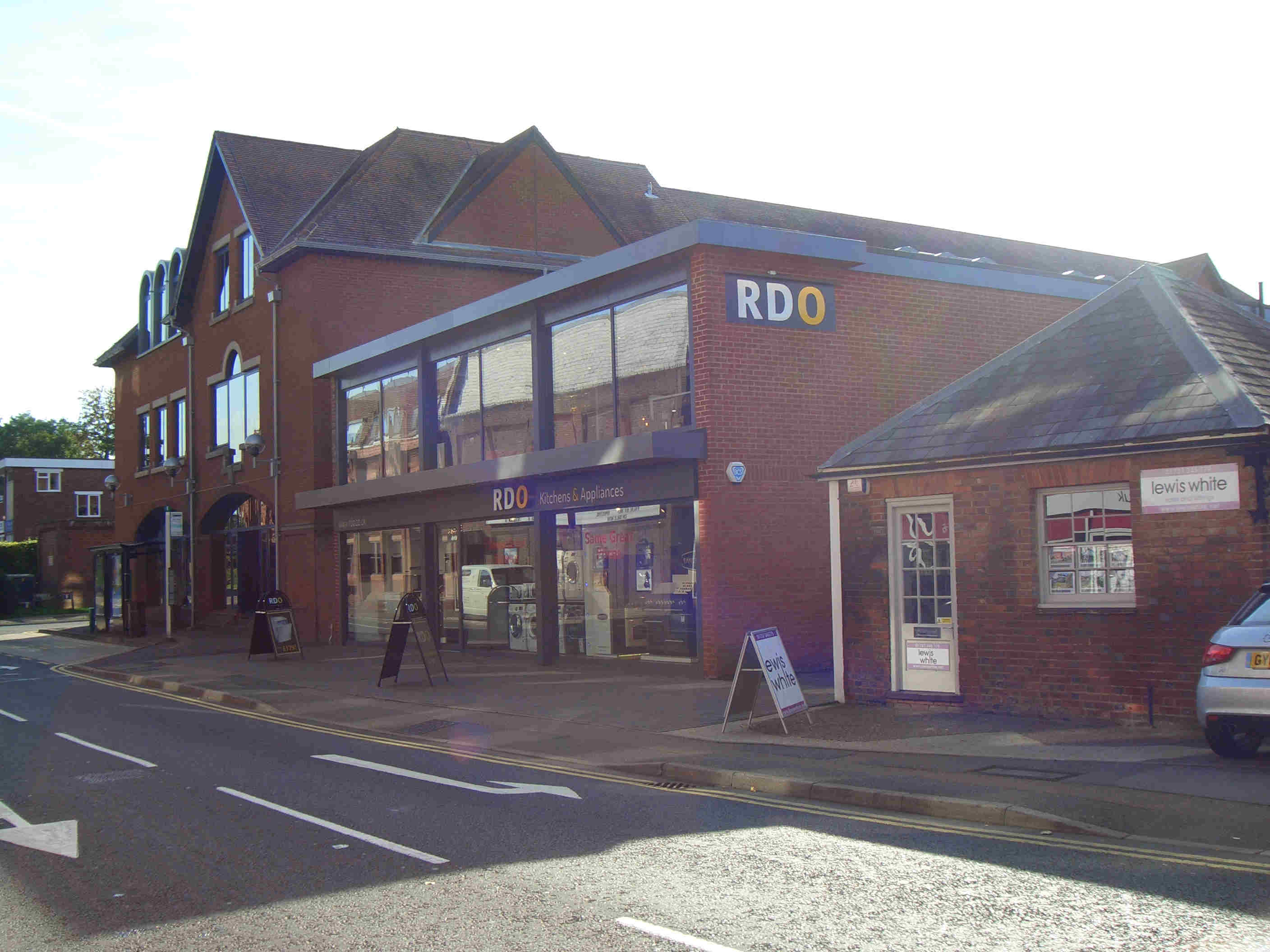 RDO Kitchens & Appliances, Bancroft Road, Reigate
Civic Award to: New Flats at 2 and 2A Garlands Road, Redhill
Category: New buildings
Garlands Road is remarkable only for its mixed and generally mediocre quality architecture, and therefore to see a well-designed new development at the prominent position at the junction with Grovehill Road is refreshing and sets a benchmark for future developments in the area.
Externally the two storey building is reticulated to mark the difference between bedrooms and living accommodation, a distinction made clearer with the use of patio style doors on the living block and smaller windows in the bedrooms. Wall finishes make the same distinction with rendered face on one and coloured horizontal timber effect boarding on the other.
The challenge presented at this site was one of large changes in levels and a very tight awkwardly shaped site. The solution resolves these problems and manages the corner wall and roof geometry detailing very well.
The external finishes and workmanship are all of a good quality, matching the care and quality of design given to landscaping. A limited area is available for amenity space which is divided between each dwelling with suitable screening.
Internally, the quality of materials and workmanship is again of a high standard, with pre-engineered panelled door sets and deep moulded skirtings.
Construction is to a very high standard with external walls formed from polystyrene block construction with reinforced concrete infill providing very high thermal insulation values.
Because the design both fits its setting and creates a new high standard for quality of design and construction in the area, the panel has given a Civic Award to this project.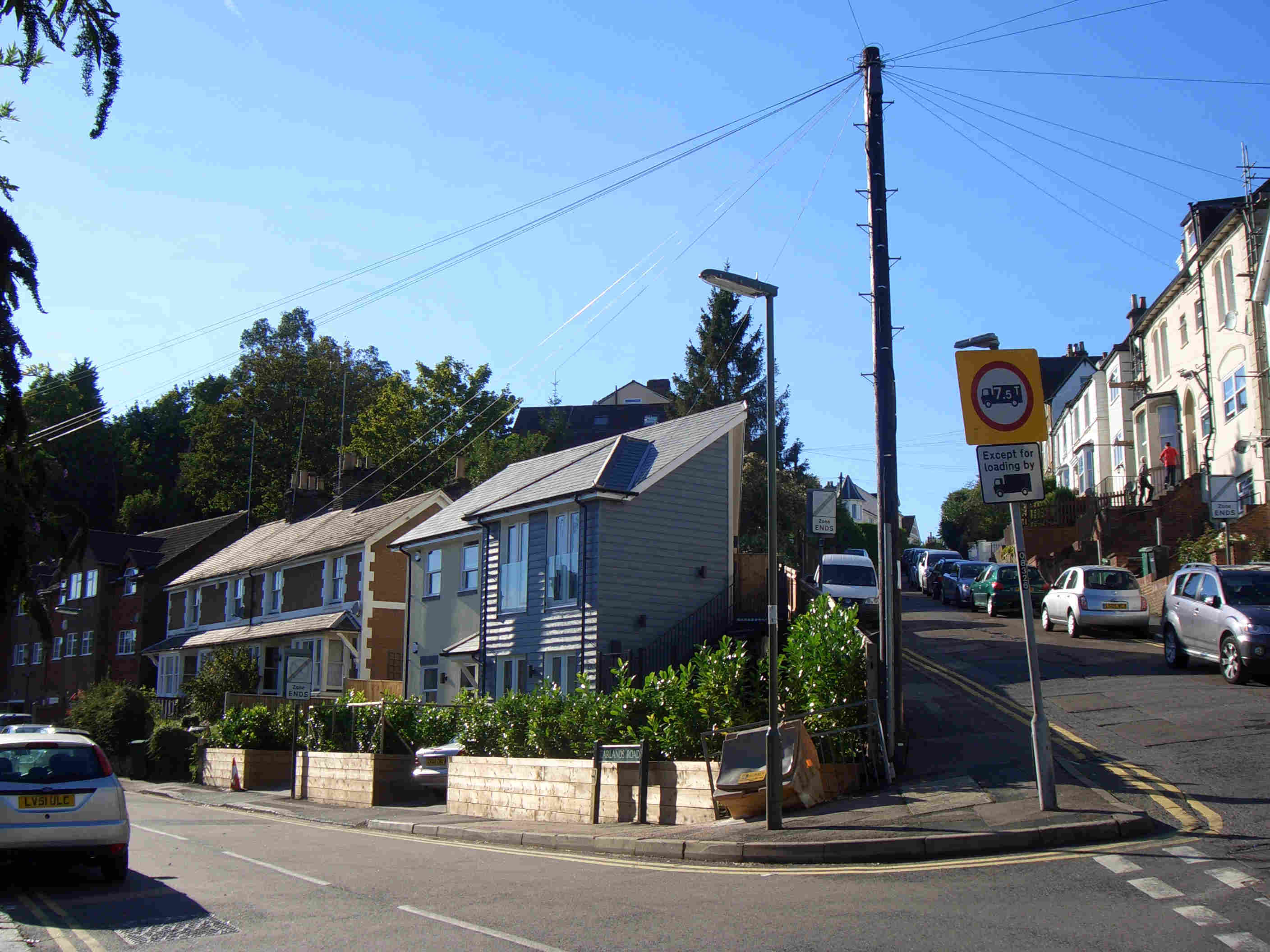 New Flats at 2 and 2A Garlands Road, Redhill